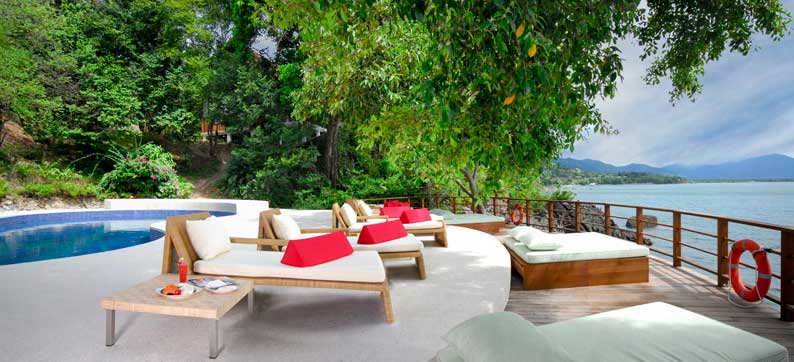 Climate and Clothing
Malaysia is a tropical country; the climate throughout the year remains hot and humid with temperatures ranging from 21 C to 32 C, therefore light and thin clothing is recommended.
Annual rainfall from 2,000mm to 2,500mm harmonizes the tropical sunny weather. The north-east monsoon brings quite heavy rainfall to the east coast between October and February. The season of heavy rain on the west coast lasts from September to December. Over in East Malaysia, heavy rain can be expected between the months of November to February, where average annual rainfall figures can hit 5080mm.
Holidays and Weekends
Malaysia is a country that has plenty to offer the foreign student during holidays and weekends. The major cities have great shopping venues that include retail centres and exotic markets, as well as exciting dining and entertainment options. For those with a yearning for more adventurous pursuits, watersports, jungle-trekking, mountain-climbing and many more hold myriad opportunities, while those who prefer more laid-back forms of leisure activities are sure to find these at the country's beautiful beach and island resorts.
Here are some things you can do during your holidays or long weekends:
World's Tallest twin towers- Petronas Towers, Kuala Lumpur
It takes all of 41 seconds to shoot up to the midpoint of Petronas Twin Towers. Tickets to the sky bridge run out fast, but it isn't everyday that you get to feel on top of the world. Towering at 451.9m above street level, this world-renowned icon is currently the world's tallest twin structure and fifth tallest skyscraper. The skybridge that links the two towers is also the world's highest two-storey bridge, doubling up as a superb viewing platform. The 88-storey building features glass and steel on the outside, and a traditionally-inspired interior, reflecting Malaysia's aspirations in moving forward while maintaining its national identity.
Shopping at BBKLCC
The BBKLCC stretch from Bukit Bintang to Kuala Lumpur City Centre, in particular, will leave you spoilt for choice with its abundant fashion, food and entertainment options. Lose yourself in the huge selection of local and international brands available across nine signature malls within the area. The shopping district is also well-connected via a covered pedestrian walkway and an efficient network of public transportation.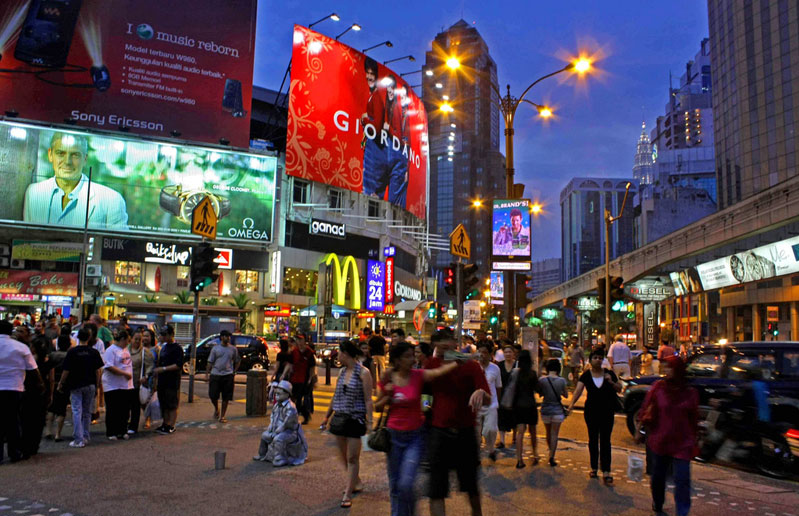 Jalan Alor, Kuala Lumpur
Located in the heart of Kuala Lumpur, Jalan Alor is one of Malaysia's most popular food haunts. Relatively quiet during the day, the street is transformed into a bustling outdoor food court when the sun goes down. Hawkers fire up their woks as hungry customers start piling in, sitting on makeshift tables and chairs lined by the roadside.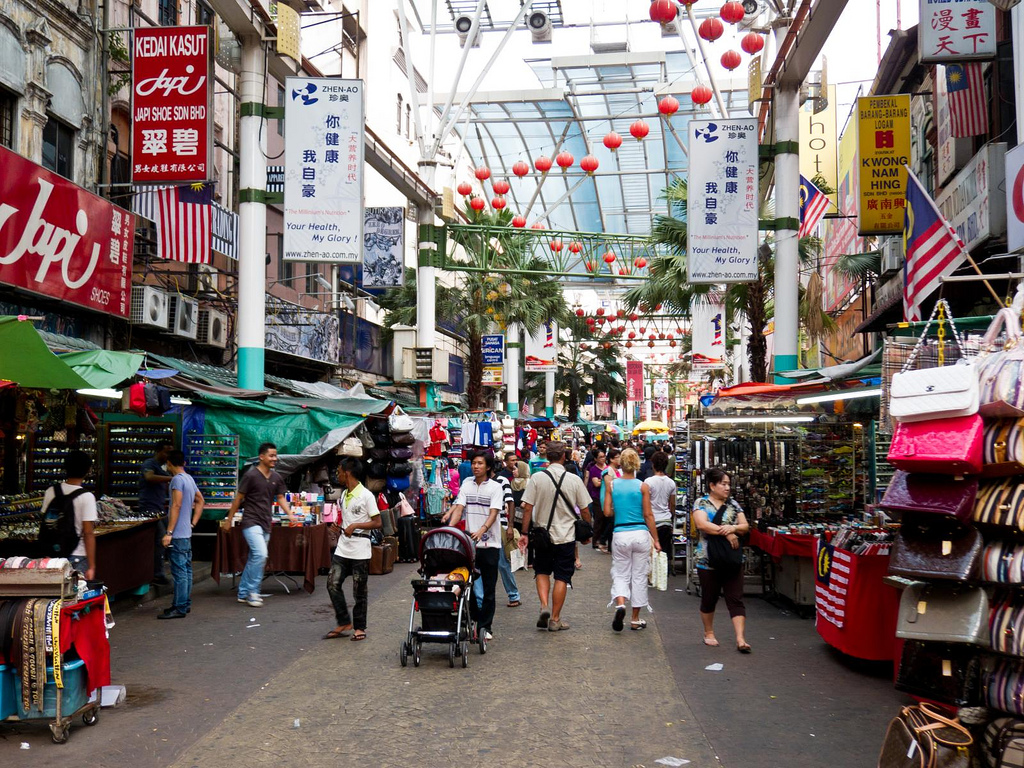 Central Market, Chinatown and Little India, Kuala Lumpur
Kuala Lumpur's cultural enclaves are some of the city's most popular tourist hotspots. Central Market, a prominent heritage landmark with its 1930s Art Deco style, is a great place to find local arts and crafts. Just down the road, Chinatown is a bustling cultural and shopping spot, with a number of heritage buildings, clan houses and temples. Meanwhile, the lively Little India in Brickfields offers a glimpse into the lifestyle of the Indian community, from its colourful clothing to fiery curries.
Genting Highlands, Pahang
Perched on top of Ulu Kali Mountain at some 1,800m above sea level, Genting Highlands is a one-stop hill resort with hotels, theme parks, a casino and a number of entertainment, dining and retail options. Its cool climate and close proximity to Kuala Lumpur – approximately an hour's drive – make it a popular highland getaway among city folks. Genting Highlands is also Malaysia's only licensed on-land gambling spot.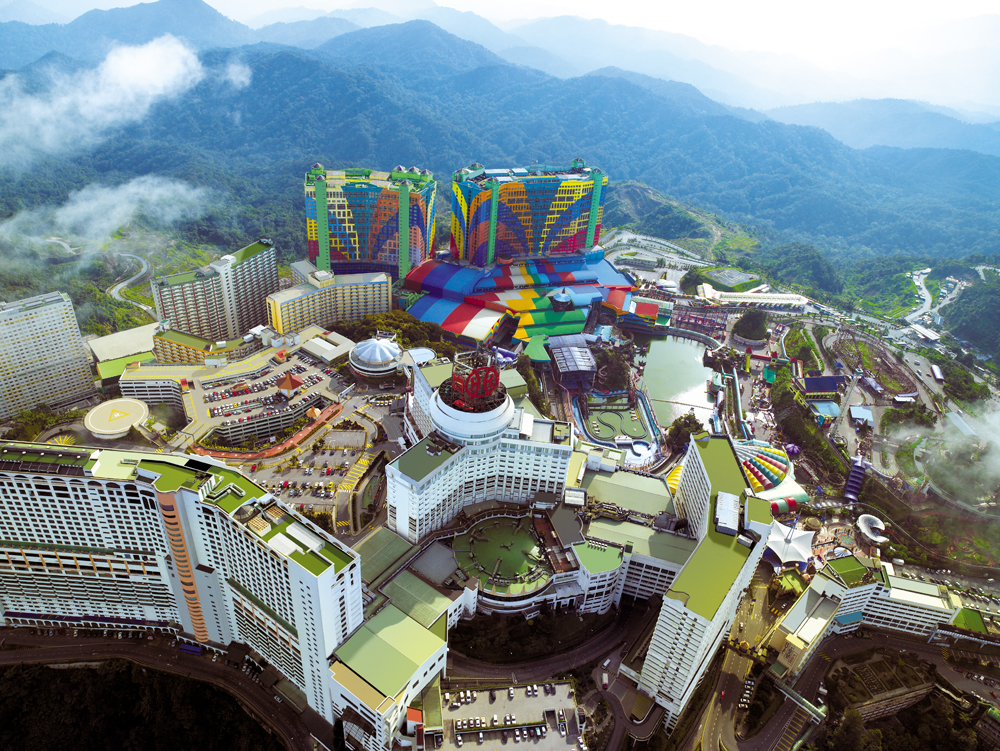 George Town, Penang
Awarded the prestigious title of UNESCO World Heritage Site in 2008, the lively capital of Penang has over 200 years of history and cultural heritage under its belt. Well-preserved colonial buildings and historical architecture draw in the art buffs, while traditional trades, handed down from generation to generation, ensure that age-old culture remains intact. George Town is also renowned for its mouth-watering food, attracting steady streams of foodies from around the world to its warm shores.
Langkawi, Kedah
Part of an archipelago of 99 tropical islands just off the coast of Kedah, Langkawi Island is as much shrouded in age-old myths and legends as it is filled with natural beauty. It was accorded the Global Geopark status by UNESCO in 2007 for its diverse and astounding geological heritage, which dates back to more than 500 million years. Langkawi is also a popular duty-free destination.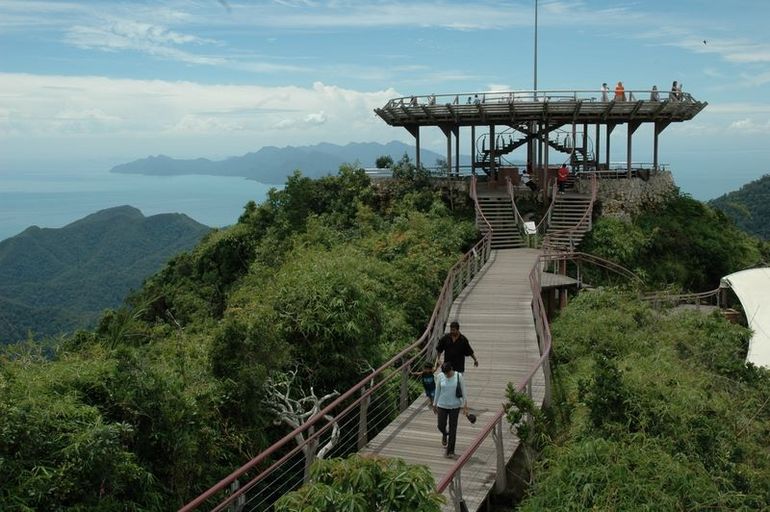 Kinabalu Park, Sabah
A UNESCO World Heritage Site, Kinabalu Park is home to Mount Kinabalu, Malaysia's highest peak. Adventure seekers may also take on the world's highest 'via ferreta, located at 3,800 metres. It's favourite destination among adventurous souls keen to scale new heights, the view from Mount Kinabalu's summit is often described as second to none. The park is also a wonderland of ecological treasures filled with thousands of plant and animal species, including a large number of endemic species.
Sipadan Island, Sabah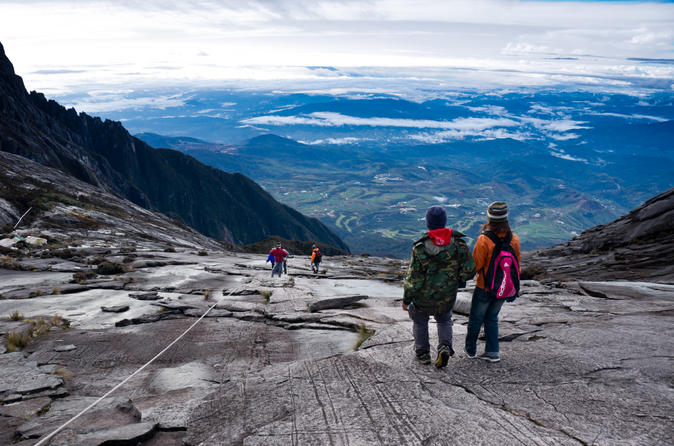 Jacques Cousteau declared Sipadan to be an "untouched piece of art", This is the most beautiful diving spot in the world. Rated as one of the world's top diving sites, Sipadan Island boasts a truly magical and breathtaking underwater experience. Situated at the heart of the Indo-Pacific Basin, the centre of the world's richest marine habitat, the oceanic island is surrounded by several exciting dive spots such as the Hanging Gardens, Barracuda Point and the Turtle Cavern. One of its most thrilling features (and certainly not for the faint-hearted) is the Drop Off, where knee-high water suddenly gives way to a 600m drop.
Kabili-Sepilok Nature Reserve, Sabah
Named after two rivers that flow through it, the Kabili-Sepilok Nature Reserve is home to an interesting and diverse array of wildlife and vegetation, consisting mainly of Dipterocarp and mangrove forests. There are several nature trails that lead through the forest, taking you from tropical highland forest to lowland mangrove swamps. The reserve is also home to the world-famous Sepilok Orang Utan Rehabilitation Centre, where you get to see this endearing species up close and learn more about them.
Kinabatangan River, Sabah
Kinabatangan River is the longest river in Sabah. It is home to one of the world's most diverse ecosystems, especially around its lower basin. The Lower Kinabatangan forest-covered floodplain – one of the largest in the country – is a renowned wildlife sanctuary where exotic species such as Proboscis monkeys, Sumatran rhinos and Asian elephants can be found. A river safari is the best way to discover Kinabatangan's rich ecosystem and abundant wildlife.
Cameron Highlands, Pahang
Located on the Titiwangsa Range some 1,500m above sea level, Cameron Highlands is Malaysia's largest hill resort. The cool weather up here makes it the perfect environment to cultivate a variety of produce, including tea, flowers, cacti, vegetables and strawberries. Enjoy the picturesque view of flourishing tea plantations blanketing the undulating hills, which can be enjoyed over a refreshing cup of tea.
Taman Negara, Pahang
Estimated to be over 130 million years old, Taman Negara is Malaysia's premier national park and one of the world's oldest rainforests. Home to a vast diversity of flora and fauna, as well as amazing natural landscapes, this virgin rainforest is also the location of Mount Tahan, the highest mountain in Peninsular Malaysia. Get an overhead view of the forest via the world's longest canopy walkway, or take part in the different activities and attractions available at each of the park's four entry points.
Mulu National Park, Sarawak
Recognised as a UNESCO World Heritage Site in 2000, Mulu National Park is home to an impressive collection of natural treasures, including razor-sharp limestone spikes called The Pinnacles, and Sarawak Chamber, the world's largest cave chamber capable of accommodating 40 Boeing 747 aircraft. Meanwhile, the Deer Cave has the world's largest cave passage as well as a unique rock formation with a silhouette that resembles the side profile of Abraham Lincoln, America's 16th President.
Melaka City, Melaka
Once an important international trading port, Melaka is now one of the country's most popular destinations. A UNESCO World Heritage City, Melaka is deemed the birthplace of the nation's historical and cultural heritage, with over 600 years of history to its name. Its landmark buildings inherit their unique architecture from British, Portuguese and Dutch influences, a nod to the city's colonial past.
Tioman Island, Pahang
Located approximately 56km off the coast of Pahang, Tioman Island is hailed as one of the world's best beach getaways. Picturesque with towering twin volcanic peaks, soft golden sands, cool mountain streams and refreshing waterfalls amidst a lush tropical rainforest, the island's waters are filled with a diverse range of aquatic species, colourful corals and mesmerising dive sites.
Bako National Park, Sarawak
Situated a mere 37km from Kuching, Sarawak's oldest national park offers an excellent introduction to Sarawak's rainforest. Home to a thriving ecosystem, it is one of the most interesting parks in Malaysia with almost every plant species in Borneo available here as well as a panoramic rocky shoreline filled with beautiful natural formations. Its well-maintained network of nature trails allow visitors to explore its attractions with ease.
Sunway Lagoon, Selangor
For some fun in the sun, head over to Sunway Lagoon, a multi-award winning theme park located just 15 minutes from Kuala Lumpur. Here you'll find five different theme parks in one amazing destination, with more than 80 rides and attractions to choose from.
LEGOLAND, Johor
If you're looking for fun and adventure for the whole family, Johor's cutting-edge theme parks offer you just that. The first of its kind in Asia and the first international park in Malaysia, LEGOLAND offers a first-class park experience with thrilling rides, interactive displays and themed areas.
The park's main attraction is MINILAND, where miniature replicas of Asia's popular landmarks made with more than 30 million LEGO bricks can be seen. Hello Kitty Town, the first Hello Kitty theme park outside Japan, is a must for fans of this popular Sanrio character. The park's highlights include Black Wonder, a state-of-the-art interactive experience, and Kitty House, an iconic house filled with everything Hello Kitty from top to bottom.
Cultural Village, Sarawak
Situated at the foothills of the mythical Mount Santubong, this award-winning living museum showcases Sarawak's rich cultural heritage. It displays the costumes, handicrafts, lifestyles and traditional dwellings of the state's major ethnic communities, with a twice-daily cultural performance. Among the unique handicrafts that can be found here are Sarawak beads and Pua Kumbu (traditional lbanese textile). This cultural village is also the venue for exciting international events such as the Rainforest World Music Festival and the World Harvest Festival.
Johor Premier Outlet, Johor
The first outlet mall to open in Malaysia, Johor Premium Outlet is a shopping haven with a collection of 80 designer and brand name outlet stores. Here, you can find discounts of between 25–65% daily. The outlet mall is located at the intersection of the North-South Expressway and the Second Link Expressway, about an hour's drive from Singapore, three hours from Kuala Lumpur and only a short distance from Senai International Airport.
KL Tower, Kuala Lumpur
Sitting on top of Bukit Nanas at a height of 421m, the tower is one of the city's most popular landmarks. The world's seventh tallest telecommunications tower also comes with an observation deck at 276m above ground level and a revolving restaurant where you can enjoy a 360° view of the city's skyline while enjoying a meal. The tower is located within the Bukit Nanas Forest Reserve, one of the oldest forest reserves in the country, making it the only tower in the world located within a forest.
Batu Caves, Selangor
Comprising a cluster of three limestone caves, the legendary Batu Caves is a magnificent and renowned cave temple. A 140-feet-high golden statue of Lord Muruga looms at the foot of a flight of 272 steps leading up to Temple Cave, the biggest of the three caves. Batu Caves is the country's main venue for the colourful Thaipusam festival, where a colourful procession of Hindu devotees can be seen carrying kavadi as offerings to Lord Muruga.
Tunku Abdul Rahman Marine Park, Sabah
Named after Malaysia's first Prime Minister, this cluster of five islands – Gaya, Manukan, Mamutik, Sapi and Sulug – was gazetted as Sabah's second national park in 1974. Popular among divers and ecotourists, the park's relatively shallow waters are filled with an abundance of corals and aquatic species – perfect for snorkelling and diving for beginners. Each island features a different collection of flora and fauna, with Pulau Gaya being the largest and most colourful of the five.
Redang Island, Terengganu
Pulau Redang is an enchanting island approximately 45km off the coast of Terengganu. Its clear waters contain hundreds of live coral species – ranked as some of the best in the world – and thousands of marine species including manta rays, stingrays and sharks. Part marine park, this island has 31 spectacular dive sites, which include two World War II historic shipwreck sites and a black coral garden.